Very pleased to have my fourth generation CHIC dog! Bing has completed all of his health testing with flying colors.
CHIC stands for Canine Health Information Center and it's a centralized canine health database. To earn a CHIC number, a dog has to have all required health tests for their breed publicly documented (not all breeds are eligible for a CHIC number).
For Danes, there are four required tests – heart, hips, thyroid and eyes.  These four things are deemed the biggest (testable) issues for our breed and recommended prior to a decision to breed a dog.
Bing's individual results can be found here.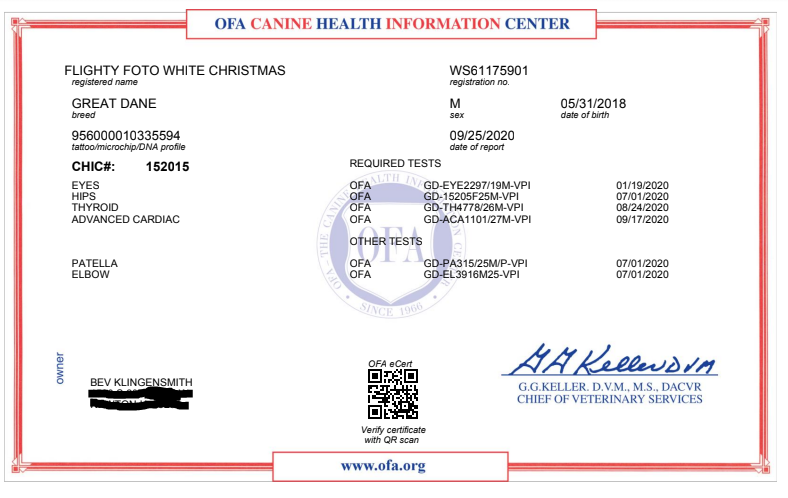 A note about CHIC: A dog does not have to pass all their health test – their owner just has to be willing to publicly list the results.  Kudos to those who are willing to display less than perfect results.  Even if that particular dog isn't being bred, the information is helpful to those who own related dogs.  And, less than perfect results don't always mean the dog should never be bred.  It depends on the problem, the severity, and the strength of the dog's other merits when weighed against those results and the dog's other weaknesses.
The CHIC program is a wonderful tool for breeders and puppy buyers alike. It allows breeders to make smarter breeding choices. The more information a breeder has – on the breeding candidate and their relatives – the more informed their breeding decisions. For buyers, it allows an easy way to verify and research before purchasing a puppy.