A hearty congratulations to Bree, and owner Tiana, for Bree's new International title.  A big congratulations as well to Gracie, and owners Les & Becca, for Gracie's newly earned CGC.
International Championships

There are different types of international championships.  Typically, in the US when you hear about Int'l titles, it refers to the International All Breed Canine Association (IABCA).  There is also an International Championship that refers to a dog earning a championship in three different countries.
IABCA offers a relaxed venue.  You will see some exhibitors wearing more casual clothing, like jeans.  There are more owner-handles than professional handlers.
Dogs don't compete against each other, rather they are judged individually against their breed standard.  When showing in AKC, only one male and one female of each breed can receive points towards their championship at a show.  For more information on showing your dog in AKC conformation events, check out Dog Showing For Beginners.
At an IABCA show, each dog receives a written critique from each judge.
Bree earned the highest rating at puppy can achieve from all four judges – SG1 – earning her national and international puppy titles.  See the IABCA rating chart.
IABCA showing doesn't replace AKC showing, but offers a great training opportunity, plus another fun way to get out and compete with your dogs.
CGC – Canine Good Citizen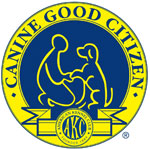 The Canine Good Citizen is a program through the AKC.  The purpose is to promote responsible dog owners, focusing on the necessary training and socialization required to make our companions good canine citizens.
The test consists of 10 parts that a dog must pass in order to earn their CGC.  Any dog can participate in the CGC, including mixed breeds!  If your dog is AKC registered, "CGC" can be added after their registered name and AKC will store the information.
CGC is a certification program, designed to reward dogs who have good manners at home and in the community.
The 10 items in a CGC:
Test 1: Accepting a friendly stranger
Test 2: Sitting politely for petting
Test 3: Appearance and grooming
Test 4: Out for a walk (walking on a loose lead)
Test 5: Walking through a crowd
Test 6: Sit and down on command and Staying in place
Test 7: Coming when called
Test 8: Reaction to another dog
Test 9: Reaction to distraction
Test 10: Supervised separation
For more information on these 10 items, visit AKC's website.  Find CGC tests in your area