My name is Bev Klingensmith and I live in Newton, Iowa, with my husband and our two sons.
Proud member of the Great Dane Club of America, Great Dane Club of Des Moines (current president),  Central Iowa Kennel Club (current secretary), Des Moines Obedience Training Club (current assistant Training Director), and the Des Moines Golden Retriever Club.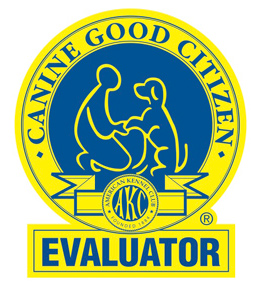 I teach public obedience classes and am an AKC CGC (Canine Good Citizen) Evaluator and ATT (AKC Temperament Test) Evaluator.  Served as the Rescue Coordinator for the GDC of Des Moines Rescue program for several years and have volunteered for Upper Midwest Great Dane Rescue, PALS (Poweshiek Animal League Shelter), and the Knoxville Humane Society.
Dogs are not our whole life, but they make our lives whole.
Some history…
I acquired my first Great Dane, a merle male we named "Zuko", in early 1997. Zuko was a great boy and enjoyed obedience work. He loved to howl whenever he heard sirens from the nearby fire station, which we laughingly referred to as his "communication with his wild brothers".
Although we loved him dearly, he had some serious temperament issues. He came from a "backyard breeder".  We finally had to make the very painful decision to have him euthanized. It was heartbreaking. It did serve as a valuable lesson about the genetic nature of temperaments. It is not all about how they are raised!
My next Great Dane, a harlequin male named Doogan, was acquired in 1999 from Elsie May Kuntze (KJEM Danes) in Canada. I purchased him on a co-ownership agreement with the co-breeder, Dr. Neil O'Sullivan (Flighty Danes).  Neil is an awesome friend, mentor and co-breeder.
Doogan was everything wonderful about a Great Dane. He grew up to be a very big, beautiful boy and was a true ambassador for the breed. Doogan adored other dogs, big or small, and loved playing with his best friend, an Irish Wolfhound. He loved it when we fostered Danes for rescue as they were brought into our house for the sole purpose of playing non-stop with him (or so he thought!).
Doogan was featured in Ginnie Saunders' wonderful DaDane of DaWeek and also starred in a local carpet commercial.  He was an absolute people magnet and had many friends.
Although he was shown, he was never pointed. Always a ringside favorite, he had just begun to really mature to his large frame when we lost him to a sudden and unexplained infection. Even with a battery of tests and an exploratory surgery, the vets couldn't pinpoint the root of his sudden illness. He passed away less than 72 hours after exhibiting any symptoms. He was just shy of three years old.  My heart still aches for my beloved boy.
When I was pregnant with my second child, Neil contacted me with "exciting harlequin news" about Cindy Harwin's (Payaso Danes) new litter.  With this news, Skyy entered our lives.  Skyy finished her AKC championship with ease, winning three majors, as well earning her CGC (Canine Good Citizen) and RN (Rally Novice) obedience title.  Skyy has also starred in a commercial!
We bred Skyy to an Irish import, Am Ch Yandamar's Harry Potter, with the litter arriving in April of 2008.  From that litter, we kept Kizzy.  She was a confident and outgoing girl.  Kizzy was major AKC pointed and had earned her CGC.  Kizzy also had a shot at fame, starring in her own commercial (for Mediacom) as well!  Loved my Kizzy girl more than words can express.  She lived a long, healthy life.
We bred Skyy a second time to Chauffeured's Luxury Tax, a dog that has been deceased for a number of years.  We did a surgical AI, resulting in two puppies delivered in April of 2011.  Sadly, the little harlequin girl in the litter did not make it, but we did end up with a beautiful mantle male (Flighty Foto Made to Order, AKA "Wilson").  Unfortunately, only one of his testicle descended, so he was unable to be shown.  He lived with the same wonderful family that owned one of his half-sisters from our first litter.
Kizzy was bred to the stunning Fender (BIF MBISS Ch. WindyCity-Orion's Guitar Hero AOM) for her one and only litter. She produced a wonderful litter of nine healthy babies. This litter was so much fun to raise! This was a mantle x mantle breeding, so we had all black and whites (mantles & piebalds…no harls/merles), hence the black and white theme for their registered names.
Our keeper puppy from that litter was Gigi.  She was a gorgeous, sweet girl, but struggled with skin problems from allergies, which I think also led to her becoming quite shy with anyone new.  It became obvious that she would not make a good contribution to a breeding program, so I had her spayed. Our hearts were broken when we lost her as a result of the spay.  She died a few hours post surgery.
Fortunately, we still had Heidi (from Fender x Kizzy litter) to continue our breeding program.  Heidi lives nearby with a wonderful family and is co-owned by us.  I feel fortunate to have so many great friends met through Danes!
We bred Heidi to Henry (MBISS GCHS Payaso Alto Gavea Henry Kissinger AOM), which produced a litter of four boys.  From this litter, we kept Bing (Flighty Foto White Christmas).  We love our silly harl boy, who is maturing beautifully.
We bred Heidi for her second litter to Phineas (CH Payaso Karpe Diem v TeredDBM Alto Gavea), a big beautiful boy who was born in Brazil and lives now in CA.  This was a super thrilling litter, producing lovely, consistent puppies.  Three puppies of the four puppies from this litter are being shown and the fourth puppy lives near me in a wonderful pet home.  We co-own all three show puppies and are so excited for their future!
I was also lucky enough to be included as a co-owner on a beautiful brindle girl, Flighty Autumridge Prairieskys Wild Rebel Rose (Danni) with some good friends.  This is so exciting to me as I've been involved with multiple generations behind this girl.
At the same time we had Bing's litter, my youngest son (14 years old at the time) finally broke me down on getting a "smaller" breed of dog.  After only having Danes for 20+ years, that was a pretty wide open!  We agreed on a Golden Retriever and I was able to find a wonderful Golden breeder.  We ended up bringing home Nash (Azzaro's Blue Mist), who is six whole days older than Bing.
I have never been a huge proponent of having two puppies at once.  It more than doubles your work.  Separate training and socialization are critical.  You need to be careful about "litter mate syndrome", where the puppies over bond with each other and not as much to their people, making training difficult.  I certainly wouldn't have wanted to raise two pups without my sons' involvement.  They both have been great about training and working with their respective charges.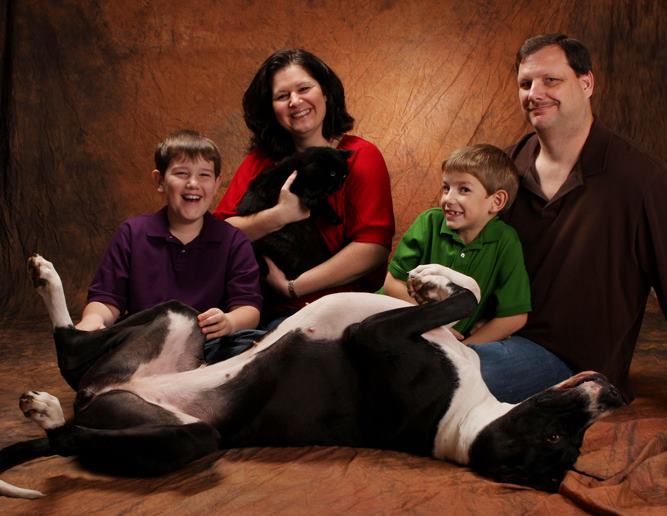 About the kennel name
For a long time I struggled with finding just the right kennel name. Ideally I wanted something that incorporated my other passion (read expensive hobby), photography.  I settled on short and simple, "Foto". Foto is the Spanish spelling of photo, paying homage to Skyy's breeder and her kennel name, Payaso (Spanish for clown).
Thank you for visiting our website. If you are interested in purchasing a puppy, please take a moment to read through the information provided on this website, including our policies on placing puppies.
If you have any questions, please contact me.
Foto Danes
Bev Klingensmith
Newton, Iowa 50208
641-792-8076 (please leave a message)
bev@fotodanes.com