Kizzy earned her first point towards her AKC championship on April 26th!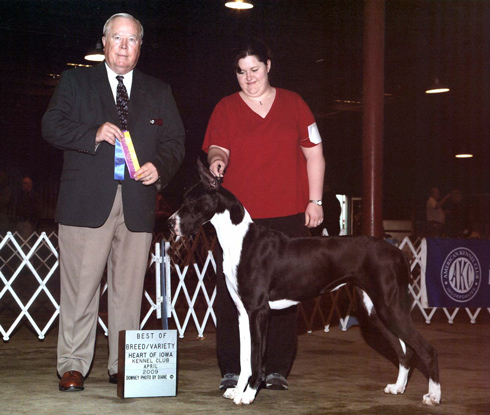 To become an AKC Champion of Record…
…dogs must earn 15 points.  Points are awarded on a scale of 1-5, based on the number of dogs defeated at that show.  The larger the entry, the greater the number of points won. 
For each breed, there is only one male (males are called "Dogs") and one female (females are called "Bitches") that can win points towards their championship that day.
Point scales varies by breed, gender and geographical location. For instance, in Iowa for Danes, it takes 10 Dogs for a 3-point win and 17 Bitches for a 3-point win. 
Wins of 3, 4 or 5 points are considered "major" wins.  In order to become a champion, dogs need to win at least two majors, under different judges.   Points also need to be awarded by one additional judge, so at least three different judges need to award a dog points. 
At a conformation show, judges are looking to see how closely the dogs conform to their breed standard. They examine ("go over") each dog with their hands to see if the teeth, muscles, bones and coat texture conform to their breed standard. They view each dog in profile for overall balance, and watch each dog gait (move) to see how all of those features fit together in action.